Public Justice recognizes injured worker who lost both hands
In today's The Guardian, injured worker Rosa Moreno shared how she lost both of her hands as an LG television machine worker.
Her evoked such strong reactions–outraging and saddening readers who had no idea of the wrongs inflicted on underpaid workers. The entire firm of Stritmatter Kessler Whelan is proud of Public Justice's work effort to help Rosa's story get the attention that it deserves. Public Justice is the country's largest public interest law firm with the mission of protecting consumers. Rosa Moreno was just selected the recipient for Public Justice's "2015 Illuminating Injustices" award of $25,000. The award helps shine a light on an injury victim who has suffered significant injury but suffered additional injustice with only obtaining partial recovery.
Below is an excerpt of Rosa's story:
On February 11, 2011, I lost both my hands.
I was working an overnight shift at my job in Reynosa, Mexico, where I was cutting metal for parts used in assembling flatscreen televisions. I was working in my usual area, and the boss was pressuring us.
"I want you to work faster, because we need the material urgently," he said.
I was moved to Machine 19, which can rip and cut metal and takes two hands to operate. It is heavy, weighing at least one ton, maybe two, and no one liked to work on it because it was too difficult. They always seemed to assign it to me.
I started work at 11pm. Around 2 or 2:30am, I was positioning metal inside Machine 19. My hands were actually inside the machine, because I had to push the metal in until it clicked into place.
That's when the machine fell on top of them.
I screamed. Everyone around me was crying and yelling. They stopped the assembly line on the female side of the room, but the men were told to keep working.
Meanwhile, I was stuck. No one could lift the machine off my hands. They remained trapped for 10 minutes, crushed under the machine.
Finally, a few fellow employees created a makeshift jack to lift the machine up just enough for me to pull my hands out. I wasn't bleeding very much, because the machine actually sealed the ends of my arms and forged them to the piece of metal. They took me to the hospital with the piece attached to my hands. The doctors were surprised when I showed up like that. I remember saying, 'Take the piece off. Take it off.' But they didn't want to."
My hands were flattened like tortillas, mangled, and they both had to be amputated. I lost my right hand up to my wrist and my left a little higher. I didn't know how I'd ever work again.
Immediately, I started to worry about my children. I have six children at home, who were between the ages of 9 and 17 during the accident, and I am both mother and father to them. How would I take care of them now?
Working six days a week, I made 5,200 pesos a month ($400). Without my hands, I knew I wouldn't even be able to make that much.
After five days in the hospital, I checked myself out. But I didn't go home first. I went directly to the factory where I worked for HD Electronics. I asked to see the manager. He offered me 50,000 pesos ($3,800).
"I've lost both my hands," I said. "How will my family survive on 50,000 pesos?"
"That's our offer," he said. "Stop making such a big scandal about it and take it." I eventually got about $14,400 in settlement money under Mexican labor law, an amount equal to 75% of two years' wages for each hand. But I knew I had to do better for my family. So I looked across the border, to Texas, where my former employer is based.
I found a lawyer with a nice office in a good part of town. I was sure he would help me. Instead, he said, "Go up to the international bridge and put a cup out and people will help you."
I was devastated.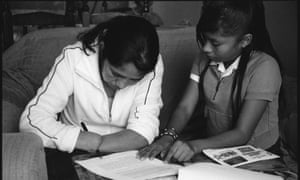 That's when I decided to tell my story on television. That led me to Ed Krueger, a retired minister who vowed to find me the right lawyer. That lawyer was Scott Hendler at the law firm Hendler Lyons Flores, in Austin, Texas. Even though I could not pay, he helped me file a lawsuit against LG Electronics, which contracted with the factory where I worked. Finally, about 18 months after the accident, I had hope.
Then the judge in my case threw out the lawsuit on a technicality, saying LG had not been properly notified. I wasn't even given a chance to respond.
It's been four years since I lost my hands. I have trouble paying my mortgage, and I wonder: Was that first lawyer right? Will I end up on a bridge, holding a cup out in front of me?
If you are so moved, please consider donating to Ms. Moreno via www.documentaryphotographs.com/rosamoreno1.html
This is photographer Alan Pogue's explanation of his beautiful portraits of Rosa: I have worked with Ed Krueger for more than 20 years. He is the founder of the Comite de Apoyo, for Mexican women workers who teach other workers their rights under Mexican labor law and how to organize to obtain those rights. He is on Facebook, only because someone helped him since he is clueless about the internet. Ed and the Comite are also a worthy cause and without him I would not have met Rosa. I accept money for Rosa and the Comite because Ed has no website or PayPal. He does what he does, driving up and down the Rio Grade teaching workers, mostly women, their rights. He is a saint who knows nothing about PR or the web. I charge nothing or helping Ed, the Comite and Rosa. No administrative cost, no gas money for driving back and forth to the Valley. I stay with Ed when I drive down so there are no hotel costs. Simple and direct. This is what I expect form others.
Note: SKW partner Brad J. Moore Seattle, Public Justice President Elect/Consumer Protection Attorney is incoming president of the Public Justice Foundation, who is instrumental as a leader in this organization devoted to protecting individuals, consumer rights, the environment. Like SKW, Public Justice wants to challenge the most powerful organizations to do the right thing and to hold them accountable when they make choices in favor of profit over the consumer's/worker's well being.